The choice of words is fairly interesting. Not leading, not managing, but mentoring, that is.
Mentoring a team of analytics experts can be quite a task, considering the level of complexity, changes and upgrades the field of data and analytics is subject to. The science of data and analysis is fluid, nuanced and shiftable and it needs some good criteria on which mentorship can be grounded.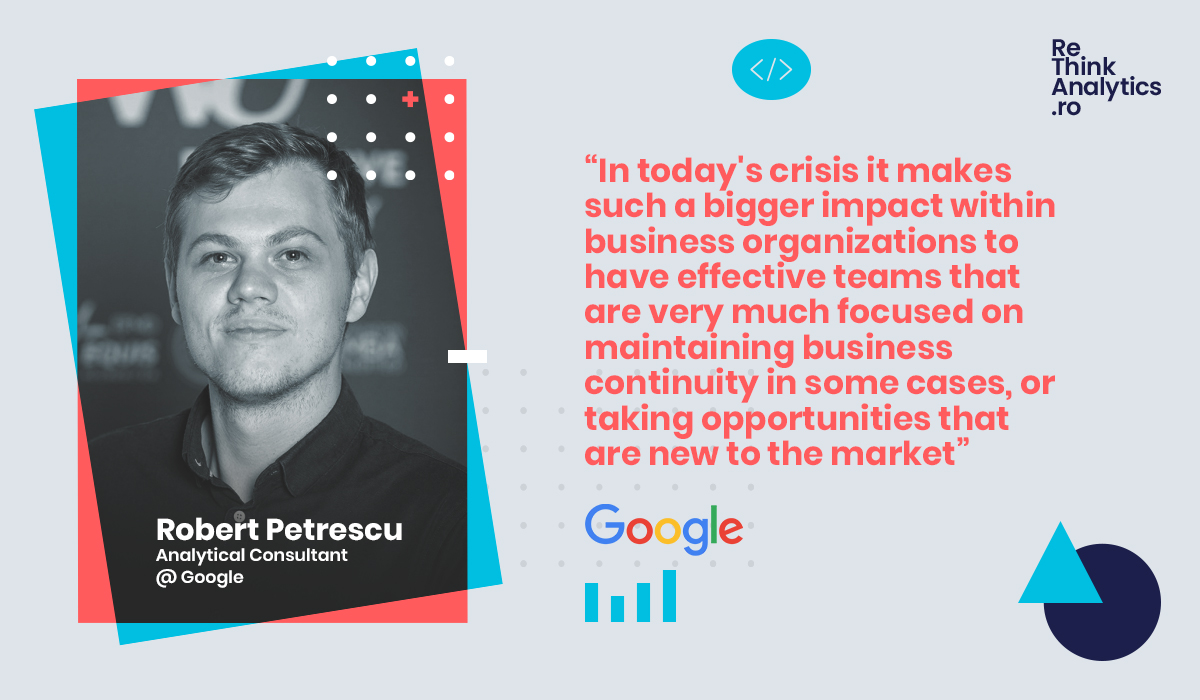 Robert Petrescu, Analytical consultant at Google and a very passionate professional, has shared his experience, grassroots experience actually, of mentoring, developing and strengthening his team of experts.
Robert is humble and young, very generous with words and open to sharing and debating ways in which individuals and teams can improve together. He talks about the importance of motivating people in teams to become leaders in their own field, to try new projects, new domains of work and to constantly communicate.
When it comes to remote work, Robert says that it is always better to "over – communicate", than keeping things quiet, as to avoid the risk of falling behind or misunderstandings.
People need to be able to share information outside of work as well, this is one aspect that strengthens a team. Maybe the challenge here is to bring together folks who are equally ready, able and open to share their experience and at the same time understand differences others bring to the table, to maybe learn from them. We dare say this is a very important prerequisite of becoming a good analytical thinker.
Share, listen and appreciate differences in perspectives or attitudes, understand and act upon them with balance and constructivism.
From a more technical point of view, Robert speaks of centralized, decentralized or hybrid systems or teams, that all come with great opportunities and challenges. He also points out the importance of consultancy skills any expert should gain in order to ideally share his knowledge and help other businesses or organizations thrive.
Moreover, the core values or skills of a team are paramount – is it data maintenance, is it core, pure analysis, or maybe providing insights to the C-levels? Defining values is important because they add up to the way you approach your analytics team.
In mentoring a team, there are three knowledge domains, as Robert defines them. Namely data, technical and consultancy.
At the intersection of these three domains lies a sort of balance that strengthens the capabilities and skills of a group of professionals. You can listen to Robert offer a more detailed description in the video we are sharing below.
A holistic approach when it comes to leading a team is necessary. Micromanagement is so passe, and if we want the outcomes of our team to match our expectations, we need to be equipped with the full capacity of understanding and interfering only when necessary.
Another very interesting topic Robert shares is related to the ways in which analytics pros can be found, how they are recruited and how an organization should define and create a job description to perfectly communicate its needs.
Last but not least, after a mentor finds the right people and defines their roles, how does one develop a great team?
There is plenty of insight in Robert's speech and we are grateful to have had the opportunity to listen to an expert who so clearly described and structured his experience for us to learn from it.
Hopefully, his speech will inspire leaders and mentors to better define, strengthen and grow together with their analytics teams.
Data needs great leaders and analytical thinkers
And together we are re:thinking the future of business with data.
Listen to Robert here and stay close
Key takeaways:
Over communicate
Try something new
Interfere only when necessary
Take advantage of the differences in your team